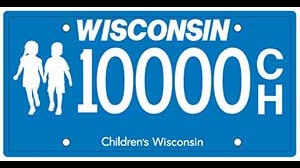 The Children's Wisconsin license plate is now available to Wisconsin drivers! When you put the Children's blue kids on your bumper, you are helping spread the word about Children's and supporting the life-changing care we provide to kids and families.
By getting your Children's license plate, you join a committed group of families, providers, community supporters and employees who help make possible the Children's vision of having Wisconsin kids be the healthiest in the nation.
The details
Plates are available for automobiles, motor homes and motor trucks. They are not available for motorcycles.
You can purchase your special plate when you renew your registration, or any time during the year.
The cost is $15 for the plate, plus a $25 tax-deductible donation to Children's Wisconsin Foundation. At each subsequent plate renewal, drivers will pay the annual vehicle registration fee plus the annual tax-deductible $25 donation.
You can order personalized plates for an additional annual fee of $15.
You will receive your plate 4-6 weeks after your application is processed.
Your annual tax-deductible donation of $25 supports the Children's Wisconsin Foundation, which funds programs ranging from research and critical care for the sickest kids and babies, to community initiatives designed to keep kids healthy.
Thank you for helping us help kids!