Your Impact: COVID-19 Response Fund
Help us help kids
The generous support of our donors helps us achieve the impossible every day. Help us do more.
Make my gift a:
I'd like to gift
"There is HOPE in COMMUNITY." - Christie Nelson, Children's Wisconsin, Supply Chain Manager, who helped facilitate your many donations of PPE.
Our community's philanthropic impact is touching countless lives across Wisconsin; patients, families, staff, caregivers, and members of our greater community. Thank you. We were founded by the community, and for the last 126 years, Children's Wisconsin has been in partnership with the community. This has never been more evident than in our fight against COVID-19. Of all the things that have changed since the crisis began, our commitment to the health and safety of kids hasn't wavered. At Children's Wisconsin, we remain as committed as ever to be there for you and your family every step of the way.
Read here
about how we are caring for kids safely at this time.
Hospitals and health systems everywhere have faced complex challenges due to the COVID-19 crisis. When we asked for help to safeguard our vulnerable patients and medical team at the start of COVID-19, you, our community, responded with an inspiring show of support. Because of your generosity, we have been able to ensure that social, mental and physical care continues for kids across our state. upp
You are making such an impact at Children's Wisconsin! Here are some of the many ways you have been supporting our mission:
You supported us philanthropically
At every level of giving, your generosity is instrumental in our ability to face this crisis. We have received a total of more than $675,000 and tens of thousands of donations of personal protective equipment (PPE) from hundreds of individuals and organizations. Your contributions serve as flexible financial resources that allow us to act quickly and address new challenges as they emerge.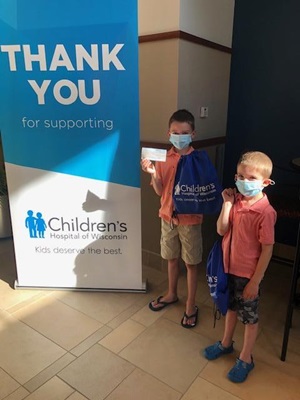 We're especially thankful for the support from young brothers, Connor and Camden, who live locally and earn a monthly allowance. When the crisis started, they decided that other kids might need a little extra support, and decided to save their allowance up and make a donation to us. We're incredibly grateful for Connor and Camden's generous donation of $100 to our COVID-19 Response Fund. It truly takes a village.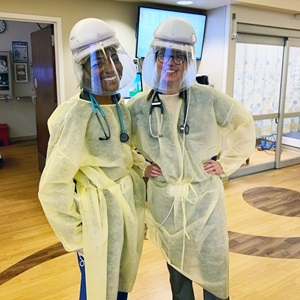 Because of your community support, we've been able to distribute a medical-grade mask to every caregiver at Children's Wisconsin. We are incredibly grateful to the Northwestern Mutual Foundation for their recent donation of $100,000, and our local Masonic organization, The Scottish Rite Valley of Milwaukee for their gift of $10,000. These combined funds are supporting our ongoing PPE needs; specifically, they are helping us procure CAPR face shields with contained respiratory systems, which is one of the best lines of defense out there.
You supported our healthcare heroes frontline team
Your support helped us address the emergent needs of our frontline providers in a continually changing environment. Our frontline team has and continues to put their own health and safety at risk to help others because it's what they are called to do, today and every day.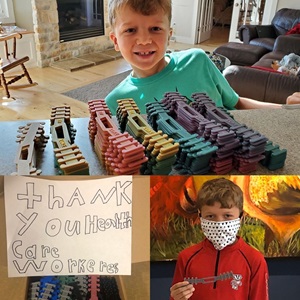 At nine years old, Luke was inspired to use his family's 3D printer to make "ear savers" for our doctors and nurses to use with their masks. Luke has never been a patient at Children's Wisconsin but he wanted to help because he cares about other kids and wanted their doctors and nurses to be comfortable while caring for them. Kids deserve the best because kids are the best.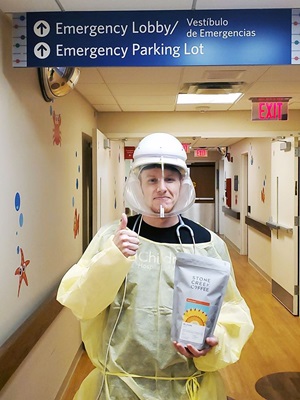 Stone Creek Coffee recently donated 200 pounds of coffee to fuel our care providers as they work to serve kids and families in our hospitals. Throughout this crisis, we have been taking extra care to find ways to support our frontline staff, and we are so appreciative of Stone Creeks' efforts to do the same. This kind gesture was one of many that helped our staff feel the wraparound support from our community at large. This delicious locally-roasted coffee helped our team run strong and care for the kids that need us.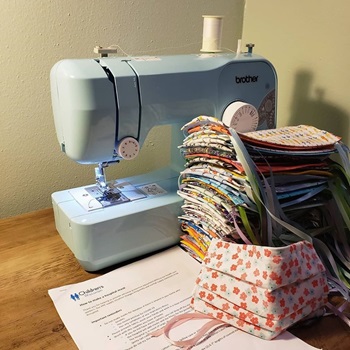 We saw so many individuals from across our community, and the nation, work to protect our frontline providers so that they can continue to be there for kids and families in all of the ways they are needed. Since we made our first request to the community to help us respond to PPE shortages, we have received more than 18,000 handmade masks from our neighbors and friends. These groups have allowed us to provide masks to patients, and the kids and families that need to visit a Children's location in person – whether that be an Emergency Department Trauma Center visit, a time-sensitive procedure, or a visit at one of our urgent care locations. These donations have allowed us to implement increased safety precautions at our many locations while we are unable to tap our regular supply chains.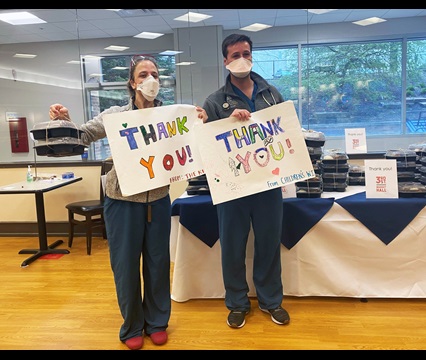 On May 2nd, after a long day of caring for kids, the staff at our Milwaukee hospital location were treated to a hot meal courtesy of 3rd Street Market Hall. Thank you for this generous donation of 1,000 meals and for helping our staff feel the love and support of this community! And, thank you to Christian Yelich, Ryan Braun, American Family Insurance, Associated Bank and Jacob Leinenkugel Brewing Co. for their partnership to make this meal happen!
You protected our kids and families and prevented transmission
Our mission is critical, now more than ever. Many of the kids in our care, like our cancer and heart patients, have compromised immune systems – putting them at higher risk if exposed to COVID-19. Your generosity meant we could continue to enact measures to prevent the spread of the virus, protect our most vulnerable patients, and do what we do best: care for kids.
We saw so many impressive examples of individuals and organizations innovating and pivoting to help our community. We received in-kind gifts of PPE from hundreds of individuals and organizations. N95 respirator masks, homemade masks, gowns, hand sanitizer (plus bottles, pumps, caps and labels), intubation boxes, meals for staff, and so much more have been dropped off or sent to us from all over the county – including Florida, Arizona and California. You can still donate PPE to help our community, more info
here
.
Your generous gifts helped us:
Procure PPE from innovative and nontraditional sources. Having enough top-quality PPE means we have been able to protect the sickest and most vulnerable kids who desperately need us as well as ensure our providers can keep providing essential care. Our need for PPE was especially great within the walls of our hospital, but also extends well beyond that setting. Your support has supplied PPE to our essential work around the state, including our Child Advocacy Centers that serve children suspected of experiencing abuse or trauma.
Expand telemedicine options for families so they can receive care from home. This includes bringing our mental and behavioral health resources online so that we can continue to support kids, teens and families in every way they need us. When the COVID-19 crisis started to spread across the United States in March, we had to quickly adjust how we deliver care. After taking the extraordinary step of canceling all non-time-sensitive appointments to protect our kids, families and staff, we got to work enhancing our phone and video appointment capabilities. From routine wellness checkups to urgent care to mental and behavioral health needs, our pediatric providers have performed more than 26,000 telehealth appointments in the last few months. We are committed to providing care to our families in a manner that is safe and convenient.
Support our foster care and case management teams by finding and using innovative technology solutions so that they can continue to deliver essential services to our community. We are all experiencing a range of emotions during this uncertain time - including kids - so we've opened all of our e-learning programs to families at no cost. Learn more here.
We're incredibly thankful for the many skilled craftspeople who are stepping up to share their expertise to benefit our community. As we continue to hear the phrase "we're all in this together," Allen Edmonds' innovative response is the living embodiment of that sentiment. Much like Children's Wisconsin, Allen Edmonds is a storied Wisconsin institution with deep and essential ties to the community. As soon as the COVID-19 crisis arrived, the Port Washington based company quickly pivoted its production. In one week, they converted their shoe-making factory into a mask sewing operation. They converted their sewing machines from sewing leather to sewing material for masks, and they connected with local partners Mike and Thad Kryshak, owners of Rebel Converting and 5K Fibres, who supplied the materials.
The Allen Edmonds leadership team, led by senior vice president of product development and manufacturing Jim Kass, displayed ingenuity along every step of the way. They created a pleating tool to help workers quickly and efficiently pleat the material for the masks, and another tool to quickly cut ties for the masks. Their output reached 6,000 masks daily and recently hit the milestone of having produced 150,000 masks for local hospitals, including ours. To date, they have made and donated more than 20,000 masks to Children's (a $250,000+ value) that we were able to distribute at staff checkpoints throughout our hospital campus.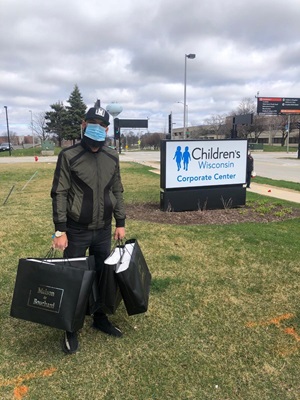 Rami Murrar, owner of the local store, Maison de Bouchards purchased and then donated 2,000 masks for Children's, to say thank you to healthcare workers, and give back to his community. "It is a small token to say thank you, Milwaukee, for helping us be in a position to give back."
Kaushal, a Marquette High School senior, raised $3,300 from his friends and family, researched which PPE items we needed most, and then purchased 500 CDC certified N95 masks for us!
You supported our community's health
We remain steadfast in our commitment to providing health care to kids and support for families at a time when it is more critical than ever. Your support is helping us address our community's health needs:
Providing online resources from pediatric experts to help families talk to kids about what is happening and share tips on how to keep kids engaged and busy at home.
Enhancing our online Triple P Positive Parenting Program, which is an education and support program that addresses the everyday challenges of raising children. Leveraging this already-established and especially relevant resource enables our providers to teach families how to build close relationships and develop positive parenting skills to manage stress and encourage healthy habits during this challenging time.
We are responding to the needs of families facing financial hardships due to the economic impact of COVID-19. Our school nurses and community navigators are stepping in to help families with concerns around housing and food scarcity.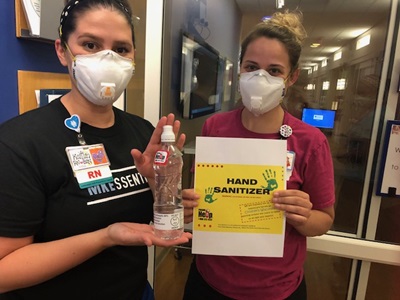 We are so grateful for all of the support our community shows us, and we are excited to build upon the relationships that have been forged during the crisis. Eagle Park Brewery, a local company that opened a new brewing and distillery location in Muskego this spring, transformed its production line to produce hand sanitizer. With the quick pivot, they needed some help with the new packaging needs that emerged. A member of the Children's staff put Eagle Park Brewery in touch with Krones Company, a packaging and bottle manufacturer in Franklin. Within an incredibly short turnaround, Thomas Loew at Krones facilitated a generous donation of more than 8,000 16.9 oz bottles and shipped them to the brewery to be filled with the sanitizer for Children's. Ryan Ammel of Amcor, a packaging manufacturer, worked tirelessly to donate the caps we desperately needed for the bottles. Central to the success of this story was the behind-the-scenes connections orchestrated by committed members of the community to bring these entities together. Thank you to everyone involved for working hard to leverage their own relationships to make this effort come to fruition.
You celebrated and encouraged us:
Every day, we are exploring new ways to best support families during this uncertain time. This takes a lot of energy, and your words of gratitude and encouragement warmed our hearts.
Danielle wrote about her recent trip to Children's Wisconsin with 4-year-old Ava. "We had to make a trip to Children's Milwaukee hospital for Ava's g-tube site. I want people on the front line to be proud of what they're doing. An exceptional facility is one that gets all the little details right. We are so lucky to have these amazing people right here at our home hospital."
Major League Baseball MVP and all-around fantastic guy Christian Yelich wanted to help the kids in the hospital have a good time while receiving treatment. So he donated 50 pairs of brand new Beats headphones and six Nintendo Switches to the MACC Fund Center for Cancer and Blood Disorders at Children's Wisconsin. On the field and off, Christian is a real pro at making kids smile.
Long-time volunteer Marc Daniloff spent time sitting outside our Corporate Center to share his support of the healthcare workers at Children's. Our hospital is full of essential staff that continue to come into work every day and give their all to support kids. Marc's sign caused much-needed smiles and encouragement.
Thank You
Neighbors, coworkers, family members and friends ⁠— compassionate individuals like you are uniting to ensure that our communities across Wisconsin receive the very best care and support during these unprecedented times. Thank you for being here during our time of need ⁠— so we can always be here in yours.
Help us help kids
The generous support of our donors helps us achieve the impossible every day. Help us do more.
Make my gift a:
I'd like to gift