Help us help kids
The generous support of our donors helps us achieve the impossible every day. Help us do more.
Make my gift a:
I'd like to gift
The MACC Fund Center – here for kids like Jahyda and Laleha
Sisters Jahyda, a creative 8-year-old, and Laleha, a strong and feisty 4-year-old, joined the Breitrick family through foster care and adoption at a young age. Both girls have sickle cell disease, an inherited blood disorder characterized by defective hemoglobin. Sickle cell hemoglobin cells are stiff and sticky and form into the shape of a sickle when they lose their oxygen. These cells cluster together and cannot easily move through the blood vessels, which may cause blockages.

Shortly after welcoming the girls into their home, the Breitricks met with providers from the Sickle Cell Disease Program at the MACC Fund Center for Cancer and Blood Disorders at Children's Wisconsin who taught them how to keep their daughters healthy so they can live their fullest lives.
Jahyda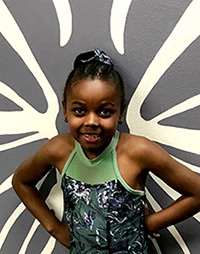 Jahyda loves to read and is happiest with a drawing pad and colored pencils in her hands. She also plays the violin. Her mom Becky says Jahyda shows amazing strength when dealing with her disease ― needles and blood draws are just part of her routine. She takes it all in stride.
Sickle cell symptoms often worsen as kids get older. A year ago, Jahyda started experiencing symptoms and blood test results prompted an urgent blood transfusion. This was the beginning of Jahyda's most challenging months to date.
Jahyda had ten transfusions over the past year alone. Transfusions have led to complications, including Jahyda rejecting both the donor's blood and her own. She also experienced her first pain crisis. "Her pain was so severe that she physically and emotionally checked out," said her mom. Jahyda's health has been stable after her spleen was removed at Children's in October 2022.
Despite the difficulties, Jahyda loves coming to the MACC Fund Center because she's "treated like royalty." Becky added that the entire family felt comfortable, safe and well taken care of during their time at the hospital. "Jahyda's veins do not cooperate, sometimes taking up to five attempts to draw her blood. The lab techs are always so kind and encouraging. We're all very grateful!"
Laleha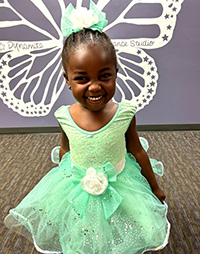 Laleha is constantly in motion and bouncing around. According to her parents, she's also a "snuggle bug". Laleha joined the family when she was a month old and was adopted when she was three. Thankfully, she has been healthy since she was welcomed into the family. "Unfortunately, it's not a matter of 'if' but 'when' she will experience symptoms," said Becky. "But we're confident she will receive the latest treatments and the best possible care at Children's."
Children's is committed to leading cutting-edge, critical research in sickle cell disease. With philanthropic support, this research will lead to a better understanding of the causes of pain with sickle cell disease and better treatments for kids like Jahyda.
Help us help kids
The generous support of our donors helps us achieve the impossible every day. Help us do more.
Make my gift a:
I'd like to gift