December 01 - December 02 | Live broadcast begins at 6 a.m.
WKLH Miracle Marathon
Parents, patients and care providers share remarkable stories of hope and healing live on 96.5 WKLH to help raise critical funds for Children's.
Broadcasting live on 96.5 WKLH and on wklh.com
December 01 - December 02
Live broadcast begins at 6 a.m.
96.5 WKLH Miracle Marathon for Children's Wisconsin
In response to the COVID-19 outbreak, we have decided to postpone the Miracle Marathon, originally scheduled for May 14 -15. The event will take place Dec. 1-2, 2020. We believe this is necessary for the health and safety of our community and we appreciate your understanding.
-----
The 22nd annual WKLH Miracle Marathon for Children's Wisconsin took place May 23-24, 2019 and raised $1,101,602 in critical funds to help ensure kids and families throughout the state receive the best possible care.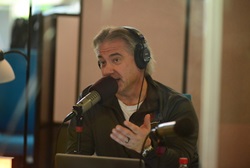 Since its inception 22 years ago, Miracle Marathon has raised more than $27 million. Generous 96.5 WKLH listeners and donors throughout our community have helped to make Children's one of the best places for kids. We rely on your support to continue to serve kids and families throughout the state of Wisconsin and beyond. Thank you!
Interested in sponsoring this event?
To learn more about sponsoring this event, contact Children's Wisconsin Foundation's events team at (414) 266-6320.
A special thanks to our partners
Children's Wisconsin reserves the right to cancel or change the date or location of Children's Wisconsin (Children's) events in its sole discretion, in the event of extreme weather, accidents, riots, strikes, epidemics, acts of God, or any other conditions Children's determines to be beyond its control. Should the event be canceled, Children's will make every effort to reschedule the event. If the event is not rescheduled, Children's will not make any refunds of any amounts paid to it in connection with the event. By attending Children's events, you authorize the use and reproduction by Children's of any and all photography and/or videography that has been taken of you this day for any purpose, without compensation to you. All digital image and/or video files are wholly owned by Children's.