Callie Rohr Memorial Canoe and Kayak Race
Fundraiser for pediatric brain cancer research at Children's Wisconsin.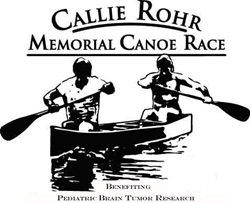 The Callie Rohr Memorial Canoe and Kayak Race was established by Jeff and Marcia Rohr, the parents of Callie Rohr, who lost her 2 1/2-year battle with brain cancer in 1999, just five days before her 10th birthday.
This annual event takes place in Northern Wisconsin on the Headwaters of the Wisconsin River, offering thirteen different classes and is one of Wisconsin's sanctioned premier canoe and kayak races.
Following the races, participants and spectators are invited to attend the Pig Roast at Rohr's Wilderness Tours, accompanied by an exciting live auction, music and award ceremony where trophies will be given to the winners in each class.
The Callie Rohr Memorial Canoe and Kayak Race has a place for everyone and spectators are welcome and encouraged to come support this worthwhile cause to help raise awareness of this devastating disease and join the battle to find a cure for pediatric brain cancer.
Schedule of events:
8 a.m. – Breakfast & Check-In
10 a.m. – "The Callie" - 14 and 8 mile races
12 p.m. - Lunch
3:30 p.m. – "Paddle For A Cure"
5 p.m. – Pig Roast at Rohr's Wilderness Tours
Children's Wisconsin reserves the right to cancel or change the date or location of Children's Wisconsin (Children's) events in its sole discretion, in the event of extreme weather, accidents, riots, strikes, epidemics, acts of God, or any other conditions Children's determines to be beyond its control. Should the event be canceled, Children's will make every effort to reschedule the event. If the event is not rescheduled, Children's will not make any refunds of any amounts paid to it in connection with the event. By attending Children's events, you authorize the use and reproduction by Children's of any and all photography and/or videography that has been taken of you this day for any purpose, without compensation to you. All digital image and/or video files are wholly owned by Children's.