Help us help kids
The generous support of our donors helps us achieve the impossible every day. Help us do more.
Make my gift a:
I'd like to gift
Everett's story: a seemingly ordinary day — then a brain surgery
Carissa Krause was warming a bottle for her hungry six-month-old son, Everett, when it happened. Everett hit the side of his head — hard — on the granite kitchen countertop. Carissa and her husband, Jeff, didn't know what to do. They called the pediatrician's office and were advised to take Everett to Children's Wisconsin's Emergency Department and Trauma Center (EDTC). With two older kids, the Krauses had been lucky that they'd never needed Children's before.

In the EDTC, Sarah Thill, MD, examined Everett and saw some concerns. Then Everett vomited, which was a bad sign. Dr. Thill ordered a scan to figure out what was going on. The scan showed an epidural hematoma, which meant Everett was bleeding inside his skull. This was a critical injury and Everett needed surgery right away.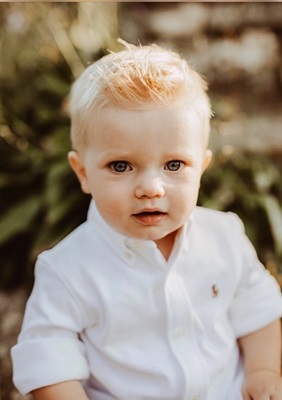 Irene Kim, MD, was the neurosurgeon — or as Carissa calls her, "a guardian angel." The family was touched by the staff's thorough and compassionate communication and by the kindness of the surgeons and the nurses and staff at the Intensive Care Unit (ICU). Jeff and Carissa felt terrible that this had happened to their baby, and the staff's positive attitudes and comforting words made all the difference for them.
The surgery lasted a few hours, and then Everett was transferred to the ICU. The doctors suggested Everett could have a longer road to recovery and there could be some developmental issues, but they wouldn't know for sure until later. Everett spent one day in the ICU and then was transferred to intermediate care. By the time he was discharged a few days later, the baby was back to doing everything he had been doing before the accident.

Today, two-year-old Everett is in physical therapy as a preventive measure. He walked at 15 months and is right on track. He still does check-ins with the rehabilitation team as he grows, and they are monitoring his verbal skills. Carissa says he's the happiest, most capable toddler he could be.

"Everett's accident was traumatic, but the care was great and everything went as well as it could have," Carissa says. She has since brought Everett's two siblings to Children's for other issues. "Children's is always there for you. It's a place we can truly count on. We are forever thankful."

Help us help kids
The generous support of our donors helps us achieve the impossible every day. Help us do more.
Make my gift a:
I'd like to gift