Help us help kids
The generous support of our donors helps us achieve the impossible every day. Help us do more.
Make my gift a:
I'd like to gift
Elynn's story: The miracle in Room 1010
One beautiful May day in 2020, 10-year-old Elynn, who had finally mastered riding on two wheels, hopped onto her new blue bike and zipped down the slight slope of her driveway. Suddenly, she lost control. The handlebars turned inward and slammed into her stomach. And that was when she began screaming in pain.
Elynn never even fell off her bike. There were no visible injuries; just a quarter-sized bruise on her right abdomen. But soon, she began vomiting — and couldn't stop. "We knew something was up," recalled Billye Survis, Elynn's mom.
The family called their pediatrician, who urged them to take Elynn to the nearest urgent care. After an exam that left Elynn screaming, she was whisked by ambulance to Children's Wisconsin 40 minutes away.
At the Children's Wisconsin Emergency Department and Trauma Center, imaging tests revealed shocking news: the force of the bike's handlebars had split Elynn's pancreas into two, damaging 85 percent of the pancreas — an important organ that produces enzymes for food digestion and hormones that regulate blood sugar.
Defying the odds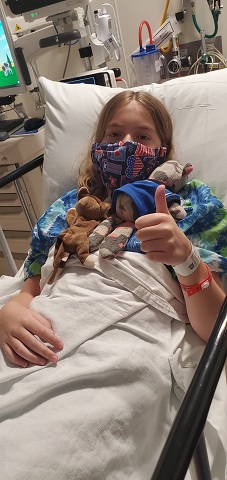 It was a rare but not unheard of injury. In fact, Children's Wisconsin pediatric surgeon John Densmore, MD, had treated a similar bike handlebar injury five years before. He told Elynn's parents that "she'd be more likely to have been struck by lightning or bit by a shark than having this type of injury," Billye said.
Nonetheless, the night before Elynn's accident, Dr. Densmore and colleagues in a study group had discussed the best way to treat that exact type of injury. Billye tells the remarkable story in her recently published book, Room 1010, which she wrote with contributing editor Brenda E. Cortez.
Dr. Densmore explained that instead of the usual approach of removing the damaged portion of the pancreas — which could cause Elynn to develop diabetes — he wanted to try repairing the damage. Elynn's parents instantly trusted him. "We let him know that we had a strong faith and we knew that things were in God's hands," Billye said.
As Elynn's parents waited for surgery updates in the car — the only place where they could be together because of COVID-19 visitor restrictions at the time — Billye suddenly felt overcome with a sense of calm. "She's going to be OK," she told her husband, Dan, with certainty. "The surgery is going to work." Less than a minute later, they received a text update from Children's saying that Dr. Densmore had successfully reconnected Elynn's severed pancreatic duct.
"During Elynn's surgery, we found each end of a 1-millimeter severed pancreatic duct and were able to fashion a stent out of a neonatal feeding tube to bridge the divide," Dr. Densmore wrote in the book's foreword. "We repaired the duct over this stent and gently sewed the pancreas together. It was a quiet moment around the table, and one filled with great potential. As of the date of this publication, Elynn is the only known child in the world, ever, to have had this treatment option and have it be a success."
Although Elynn's family didn't initially realize their daughter was making surgical history, they're grateful that Dr. Densmore was willing to try a new approach to protect Elynn's long-term health.
"The skill level that was involved was just unbelievable. The pancreas isn't like the heart or the lungs where it's a solid thing," Billye noted. "It's more like a bowl of oatmeal. It's mushy. So when you think about how they were able to not just put this duct together, but really bridge that gap and put that pancreas back together, it's just amazing."
It was the family's first experience at Children's, and staff worked hard to make the family feel at home: from giving Billye a handmade face mask sewn by a Children's volunteer to bringing Elynn board games so she could pass the time by playing Sorry!. "I can't say enough good things about how the Children's staff went above and beyond trying to help us navigate through what was a pretty difficult time," Billye said.
An amazing turnaround
The family was initially told that Elynn would likely need three to four months to recover in the hospital. To everyone's amazement, Elynn was well enough to go home just 11 days after her injury. "It's unbelievable to think about," Billye said. "They told us she probably wouldn't even have liquids for maybe three to four weeks and probably wouldn't be eating for at least a month, and she was able to accomplish all of those milestones within just a few days after her surgery. The whole story is just miraculous."That inspired the Room 1010 book — a nod to the room at Children's where Elynn stayed. "There were so many signs along the way that God was with us and this was meant to happen to her that we knew as soon as the surgery was successful that we had to share her story," Billye said.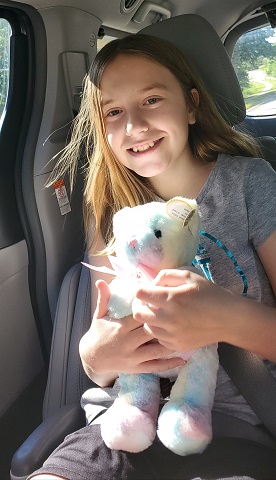 Elynn, who is now 12, quickly resumed soccer, softball and playing with friends. While she needed a few additional procedures to replace the stent, her pancreas healed and functions normally. "You would never know anything ever happened unless she told you her story or you saw the scars on her stomach. She's 100 percent back to normal," her mother said.
Just a couple of months after the accident, Elynn asked if she could ride her bike again. Nervous but excited that Elynn was ready to give biking another try, her parents urged her to go for it. "And so she went and got her helmet, put her helmet on, and off she went," Billye said.
Pick up your copy of Room 1010 through facebook.com/room1010.miracle or room1010llc.com using code CHILDRENS, and Elynn's family will donate the proceeds to Children's Wisconsin to help more kids experience miraculous outcomes.
Help us help kids
The generous support of our donors helps us achieve the impossible every day. Help us do more.
Make my gift a:
I'd like to gift