Louie's Last Regatta
Louie's Last Regatta started in 1999 by a group of Milwaukee sailors who wanted a final sailing regatta of the season, and wanted to raise awareness and funding for Children's Wisconsin.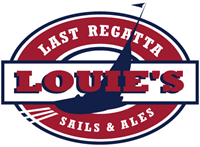 Louie's Last Regatta is a memorable regatta for sailors and an important fundraiser for Children's Wisconsin. For over 20 years, sailors have been gathering together to celebrate the end of sailing season and to raise money for the kids and families of Wisconsin. 100% of the funds raised by participants directly support programs and services that prevent and ease the suffering of children.
Back by popular demand, the scavenger hunt will be filled with activities that incorporate the historical and traditional fun of Louie's Last Regatta. The scavenger hunt will take place throughout the month of September leading up to the regatta sailing event on Saturday, September 25.
Event details
Louie's Last Regatta benefitting Children's Wisconsin
Saturday, September 25, 2021
High Noon – Louie's 23rd Last Regatta on Milwaukee's Bay
2-6 p.m. – Post-race celebration and awards ceremony at South Shore Yacht Club
Register now to learn more and get started with your boat today!
Thank you to our sponsors
Questions
For questions about participating in or sponsoring this event, contact Leslie Dess at LDess@chw.org or (414) 266-6322.
Follow us on social media
Children's Wisconsin reserves the right to cancel or change the date or location of Children's Wisconsin (Children's) events in its sole discretion, in the event of extreme weather, accidents, riots, strikes, epidemics, acts of God, or any other conditions Children's determines to be beyond its control. Should the event be canceled, Children's will make every effort to reschedule the event. If the event is not rescheduled, Children's will not make any refunds of any amounts paid to it in connection with the event. By attending Children's events, you authorize the use and reproduction by Children's of any and all photography and/or videography that has been taken of you this day for any purpose, without compensation to you. All digital image and/or video files are wholly owned by Children's.