Do Good With Food
Support Children's Wisconsin by dining in or carrying out at a number of Milwaukee area restaurants.
Dine-in or to-go at restaurants throughout Milwaukee
Participating restaurants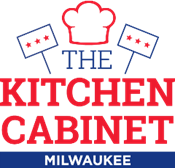 Do Good with Food is a unique collaboration with the Milwaukee Kitchen Cabinet, a subcommittee of the Wisconsin Restaurant Association. The Kitchen Cabinet is a group of restaurateurs who are committed to strengthening the communities where they live and work.
Inspired by Gino and Leanne Fazzari, grateful parents and owners of Calderone Club & San Giorgio Pizzeria, several local restaurants are donating a portion of their food and beverage sales from their lunch and dinner dining services on Thursday, August 26 to Children's Wisconsin. Funds will support many of our programs and services that make a difference for kids and families. In it's first year, Do Good with Food raised over $25,000 for Children's.
For questions about participating in or sponsoring this event, contact Kathleen Hinkley at KHinkley@chw.org or (414) 266-6197.
Participating restaurants:
Black Husky Brewing: 909 E. Locust St, Milwaukee, WI 53212
Calderone Club (Downtown): 842 N Old World 3rd St, Milwaukee, WI 53203
Calderone Club (Fox Point): 8001 N Port Washington Rd, Fox Point, WI 53217
The Melting Pot: 19850 W Blue Mound Road, Brookfield, WI 53045
San Giorgio Pizzeria Napoletana: 838 N Old World 3rd St, Milwaukee, WI 53203
Saz's State House: 5539 W State Street, Milwaukee, WI 53208
Vagabond: 1122 N Edison St, Milwaukee, WI 53202
Other generous partners:
Wisconsin Restaurant Association – Milwaukee Chapter
A special thank you to our partners:
Children's Wisconsin reserves the right to cancel or change the date or location of Children's Wisconsin (Children's) events in its sole discretion, in the event of extreme weather, accidents, riots, strikes, epidemics, acts of God, or any other conditions Children's determines to be beyond its control. Should the event be canceled, Children's will make every effort to reschedule the event. If the event is not rescheduled, Children's will not make any refunds of any amounts paid to it in connection with the event. By attending Children's events, you authorize the use and reproduction by Children's of any and all photography and/or videography that has been taken of you this day for any purpose, without compensation to you. All digital image and/or video files are wholly owned by Children's.