Do Good With Food
Support Children's Wisconsin by dining at several restaurants and bars throughout greater Milwaukee.
Restaurants and bars throughout greater Milwaukee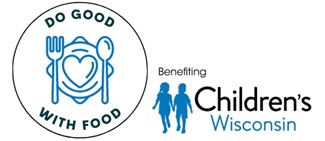 The Do Good with Food restaurant fundraiser is back, even bigger and more delicious than ever on Thursday, August 25! Will you be our guest?
Visit any of our 34 participating restaurants and bars throughout greater Milwaukee. Each establishment will donate a percentage of all food and/or beverage sales from lunch and/or dinner to Children's, with proceeds supporting three critical programs: the neonatal intensive care unit, emergency department and the Nourishing Partners Program, which provides services and community partnerships to help families access nutritious food.
For questions about participating in or sponsoring this event, contact Julie Caan at (920) 912-3445 or jcaan@childrenswi.org.
Participating restaurants
From downtown to the suburbs and from fine dining to casual fare, Do Good with Food caters to all tastes. Please visit each establishment's website for hours, menus and more details.
Beverage-focused participation:
*Bartolotta Restaurants: 100% of proceeds from the Bartolotta Heritage Collection wine will be donated to Children's.
**Black Husky Brewing: A percentage of beer sales will be donated to Children's.
***Carnevor: 100% of sales from two specialty cocktails will be donated to Children's.

Generous partners
How Do Good with Food Began
The mission of Do Good with Food is to unite the restaurant community in support of Children's Wisconsin. The fundraiser began as a collaboration between grateful parents Gino and Leanne Fazzari, the Milwaukee Kitchen Cabinet, the Wisconsin Restaurant Association and Children's Wisconsin. Since its inception in 2019, the event has raised more than $45,000 for kids and families.

Meet our partners:
The Fazzaris are local restaurateurs whose lives were forever impacted by doctors, nurses, and healthcare providers at Children's Hospital who saved their daughter's life.
The Milwaukee Kitchen Cabinet is a subcommittee of the Wisconsin Restaurant Association. These passionate restaurateurs are committed to strengthening the communities where they live and work.
A Special Thank You to Our Partners!
Children's Wisconsin reserves the right to cancel or change the date or location of Children's Wisconsin (Children's) events in its sole discretion, in the event of extreme weather, accidents, riots, strikes, epidemics, acts of God, or any other conditions Children's determines to be beyond its control. Should the event be canceled, Children's will make every effort to reschedule the event. If the event is not rescheduled, Children's will not make any refunds of any amounts paid to it in connection with the event. By attending Children's events, you authorize the use and reproduction by Children's of any and all photography and/or videography that has been taken of you this day for any purpose, without compensation to you. All digital image and/or video files are wholly owned by Children's.