Go Big for Kids
Bid online one-of-a-kind experiences.
Powered by Northwestern Mutual
Online Auction.
Text CW to 71760 to bid and receive live text message updates on the auction.
Powered by Northwestern Mutual

Support Wisconsin's kids in a time when they need you the most. Join Children's Wisconsin and local celebrities, athletes and companies in supporting Wisconsin's kids during this global crisis. Bid on one-of-a-kind experiences to meet and greet with the Brewer's MVP, Christian Yelich, have virtual coffee with the Milwaukee Bucks president, Peter Feigin, or share laughs with Charlie Berens, host of the Manitowoc Minute at Wild Eagle Lodge!
Text CW to 71760 to bid and receive live text message updates on the auction.
We will be adding new experiences in the upcoming weeks!
To register on a web browser click here. Please note you must register via text if you would like text message communications.
Featured Auction Items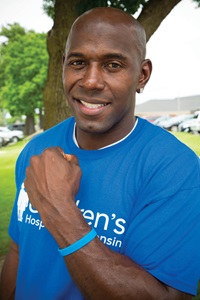 Virtual Workout with Donald Driver
Workout & Wine with Double D! Enjoy a 30 minute virtual workout with Green Bay Packers all-time leading receiver Super Bowl champion, Dancing With the Stars Champion and Fitness Club Owner, Donald Driver.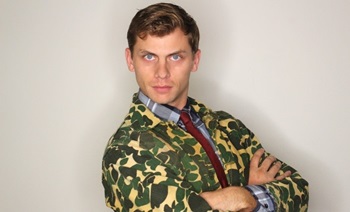 Attend Manitowoc Minute's live show
Attend Manitowoc Minute's live show in Eagle River for you and 19 of your friends on Friday, September 25. Prior to the show you and your friends will enjoy a Wisconsin fish fry with Manitowoc Minute himself - Charlie Berens!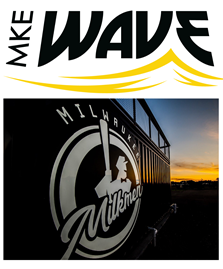 Milwaukee Wave & Milwaukee Milkmen Experience
Does your kiddo love sports? This package will give them an amazing Milwaukee sports experience if so! In addition to tickets to mutually agreed upon games, the highest bidder will be able to throw the first pitch and make the first kick at each game in addition to many other exclusive perks.
Children's Wisconsin staff thanks you for your participation and hopes you and your family are staying healthy as we navigate these times together as a community.
Powered by Northwestern Mutual
Children's Wisconsin reserves the right to cancel or change the date or location of Children's Wisconsin (Children's) events in its sole discretion, in the event of extreme weather, accidents, riots, strikes, epidemics, acts of God, or any other conditions Children's determines to be beyond its control. Should the event be canceled, Children's will make every effort to reschedule the event. If the event is not rescheduled, Children's will not make any refunds of any amounts paid to it in connection with the event. By attending Children's events, you authorize the use and reproduction by Children's of any and all photography and/or videography that has been taken of you this day for any purpose, without compensation to you. All digital image and/or video files are wholly owned by Children's.